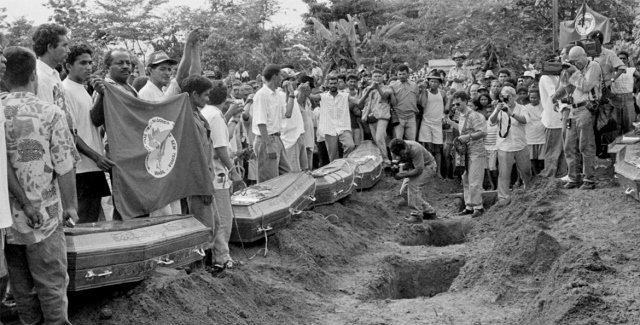 Downloads & Links
---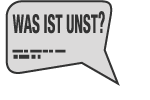 Antigone im Amazonas
Reenactment, Videoinstallation und Theaterperformance
"Ungeheuer ist viel, doch nichts ist ungeheurer als der Mensch."
For "Antigone in the Amazon", Milo Rau and his team travel to the Brazilian state of Pará, where the forests burn due to the expanding soy monocultures and nature gets devoured by capitalism. Together with indigenous people, activists and actors, Sophocles' Antigone is recreated on an occupied piece of land in the Brazilian Amazon. Recreated as a bloody clash of traditional wisdom and global turbo-capitalism; an epic of mankind's struggle against its self-inflicted downfall in greed and blindness and hubris.
For this experiment, the Global Ensemble of NTGent unites with Brazilian artists. For the first time in the history of theatre, an indigenous actress plays Antigone, the chorus of the tragedy consists of survivors of the Brazilian police's largest massacre of landless people to date. Theiresias is performed by Brazilian indigenous activist and philosopher Ailton Krenak.
The creation phase of Antigone in the Amazon is completed on the 27th anniversary of the massacre of 17 April 1996, at the place and the site of the crime: the federal highway BR-155 that is closed and occupied for this purpose. A re-enactment of the massacre is publicly performed as the peak of the creation and a metaphor of the infamous civil war that marks the beginning of the Antigone myth.
The world premiere of the play is on May 13, 2023 at NTGent (Ghent, BE), led by artistic director Milo Rau. Parallel to the play, a campaign to save the Amazon is being developed together with the Brazilian movement of landless farmers (Movimento dos Trabalhadores Sem Terra) and many other NGOs.
CONCEPT & DIRECTION Milo Rau TEXT Milo Rau & ensemble WITH Frederico Araujo, Sara De Bosschere, Pablo Casella & Arne De Tremerie ON VIDEO Kay Sara, Gracinha Donato, Célia Maracajà, Martinez Corrêa, choir of militants of Movimento dos Trabalhadores Rurais sem Terra (MST), and as Theiresias: Ailton Krenak DRAMATURGY Giacomo Bisordi COLLABORATION DRAMATURGY Douglas Estevam, Martha Kiss Perrone ASSISTANT DRAMATURGY Kaatje De Geest, Carmen Hornbostel COLLABORATION CONCEPT, RESEARCH AND DRAMATURGY Eva-Maria Bertschy SET Anton Lukas COSTUMES Gabriela Cherubini, An De Mol, Jo De Visscher, Anton Lukas LIGHT Dennis Diels MUSIC Elia Rediger, Pablo Casella VIDEO Moritz von Dungern VIDEO MAKING OF Fernando Nogari VIDEO EDITING Joris Vertenten DIRECTION ASSISTANT Katelijne Laevens INTERN DIRECTION ASSISTANT Zacharoula Kasaraki, Lotte Mellaerts PRODUCTION MANAGEMENT Klaas Lievens, Gabriela Gonçalves ASSISTANT PRODUCTION MANAGEMENT Jack Do Santos TECHNICAL PRODUCTION MANAGEMENT Oliver Houttekiet STAGE MANAGER Marijn Vlaeminck TECHNIQUE Max Ghymonprez, Sander Michiels, Raf Willems SPECIAL THANKS TO Carolina Bufolin
PRODUCTION NTGent COPRODUCTION The International Institute of Political Murder
(IIPM), Festival d'Avignon, Romaeuropa Festival, Manchester International Festival, La Vilette Paris, Tandem – Scène nationale (Arras Douai), Künstlerhaus Mousonturm (Frankfurt), Equinoxe Scène Nationale (Châteauroux), Wiener Festwochen IN COLLABORATION WITH Movimento dos Trabalhadores Rurais Sem Terra (MST)
WITH SUPPORT OF Goethe Institut Saõ Paulo, PRO HELVETIA programme COINCIDENCIA – Kulturausch Schweiz – Südamerika, The Belgian Tax Shelter