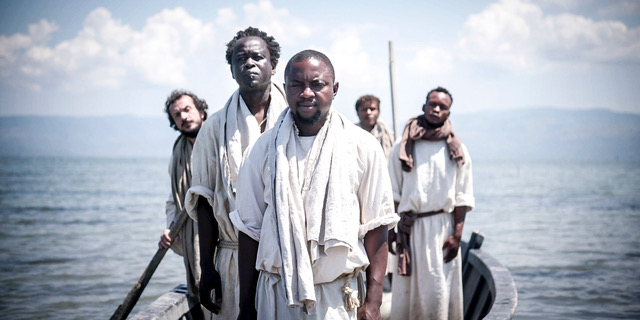 The Revolt of Dignity & The New Gospel
Campaign, Performance and Film
What would Jesus preach in the 21st century? Who would his disciples be? And how would today's bearers of secular and spiritual power respond to the return and provocations of the most influential prophet and social revolutionary in human history? With "The new Gospel", Milo Rau is staging a "Revolt of Dignity". Led by political activist Yvan Sagnet, the movement is fighting for the rights of migrants who came to Europe across the Mediterranean to be enslaved on the tomato fields in southern Italy and to live in ghettos under inhumane conditions. The director and his team return to the origins of the gospel and stage it as a passion play of an entire civilization. In Matera, in southern Italy, where the great Jesus films from Pasolini to Gibson were shot, an authentically political as well as theatrical and cinematic "New Gospel" emerges for the 21st century. A manifesto of solidarity with the poorest, a revolt for a more just, humane world.
Six years ago, Pope Francis denounced the "globalization of indifference" in Lampedusa and said about capitalism that "this system kills." The moment Italy criminalizes the rescue of people who are drowning, the Catholic Church returns to its socio-revolutionary roots: what does the Bible really ask of us? What was meant by the radical "no" by the Christian prophet when confronted with the system of Roman imperialism and exploitation? Who would Jesus fight for today – and who would be fighting at his side?
In Southern Italy, at the southern edge of the EU, where refugees from Africa are forced to work as harvesters and small farmers, who are unemployed due to increasing grain imports and are fighting for survival, Milo Rau will be creating THE NEW GOSPEL – a documentary film dealing with the life and death of who is probably the most influential religious founder in the history of the world. Who are the displaced people, the outcasts, the humiliated of today's world order? What is left of Jesus' message of salvation in times of global exploitation?
Political activist and Jesus performer Yvan Sagnet himself worked on a tomato farm when in 2011 he revolted against the system of exploitation and led the first farm workers' strike in southern Italy. Just as Jesus sought his group of apostles as a "fisher of men", he now returns to the largest of the wild refugee camps currently called "ghettos" in Italy. Among the "wretched" of southern Italy, the refugees and migrants stranded in the barren landscape, those who hire themselves out on the tomato and orange plantations, he finds his "disciples", who will lead a "Revolt of Dignity" at his side: a struggle for the rights of the people disenfranchised by the current Italian government and EU policies – over 500,000 people in Italy alone. They are joined by small farmers and activists driven into bankruptcy by major agricultural corporations, as well as actors from the films of Pasolini and Mel Gibson. Enrique Irazoqui, who played the legendary role of Jesus in the Pasolini film, will take on the role of John the Baptist in Rau's version of the "Gospel"; Maia Morgenstern, Mel Gibson's Saint Mary, will be playing the mother of the black savior Sagnet.
Christians, Muslims, Jews, atheists, refugees and Europeans fight side by side for the right of all people to live in legality, self-determination and freedom of movement. They call on all citizens of Europe to solidarize with them and to express their resentment and resistance against Europe's inhumane refugee policy. What is left of the values of the Enlightenment and Christianity in the realpolitik of the EU? How can contemporary Europe even be reconciled with "occidental" values? Even if or precisely because they are fighting against the Italian government and the large corporations, the followers of the new movement, like Jesus' disciples at the time, "did not come to destroy the law, but to fulfill it." For where injustice becomes law, resistance becomes duty!
While the message of the "Rivolta della Dignità", an emancipatory movement of the lawless, spreads, the great spectacle will be organized: the main venue is the small town of Matera in the middle of the southern Basilicata, where the Jesus films by Pier Paolo Pasolini ("The Gospel according to St. Matthew") and Mel Gibson ("The Passion of the Christ") were filmed. Right there, in the filmhistorical setting, Jesus will enter the city, he will be tortured, crucified and, once again, will be resurrected. This will occur under the eyes of thousands of cultural tourists which Matera will attract from all over the world as the European Capital of Culture 2019. The Christian myth and the touristic reality of Europe clash in a mystery play about poverty, faith and dignity.
As the grand finale, Jesus and his disciples will travel to Rome in early October of 2019. Here, Pope Francis will be confronted with the New Gospel. There will be an encounter between the "old" and "new" message of salvation, the official and dissident church: in Rome, the center of the Roman world power at the time of Jesus and today's capital of modern Christianity – and at the same time the capital of one of the most xenophobic and anti-minority governments of the EU.
WITH: YVAN SAGNET, YUSSIF BAMBA, VITO CASTORO, MARCELLO FONTE, MARIE ANTOINETTE EYANGO, PAPA LATYR FAYE, ENRIQUE IRAZOQUI, SAMUEL JACOBS, ALEXANDER MARFO, MAIA MORGEN-STERN, KADIR ALHAJI NASIR, MBAYE NDIAYE, ANTHONY NWACHUKWU, JEREMIAH AKHERE OGBEIDE, OSARETIN, ALI SOUMAILA, MOHAMMED SOULEIMAN, MUSSIE ZERAI AND MANY OTHERS
WRITTEN AND DIRECTED BY MILO RAU PRODUCERS ARNE BIRKENSTOCK, OLIVIER ZOBRIST, SEBASTIAN LEMKE DRAMATURGY & RESEARCH EVA-MARIA BERTSCHY CAMERA THOMAS EIRICH-SCHNEIDER SOUND MARCO TEUFEN SET DESIGN & COSTUMES ANTON LUKAS, OTTAVIA CASTELLOTTI ASSISTANT DIRECTOR GIACOMO BISORDI EDITOR KATJA DRINGENBERG MUSIC ELIA REDIGER SOUND DESIGN AND MIXING GUIDO KELLER PHOTOGRAPHY ARMIN SMAILOVIC PRODUCTION MANAGEMENT ELISA CALOSI PRODUCTION COLLABORATION MASCHA EUCHNER-MARTINEZ, RICCARDO RASCHI, LARYSSA STONE, EVA-KAREN TITTMANN, VALENTINA BERTOLINO TECHNICAL COLLABORATION JENS BAUDISCH MAKING-OF CAMERA CRISTINA YURENA ZERR RESEARCH ASSISTANCE TOMAS GONZALEZ SET DESIGN & COSTUMES ASSISTANCE PAULINE HOSSE-HARTMANN, ALESSANDRO SANTI, MAXIMILIAN SCHWIDLINSKI, MAGDALENA STÜCKLER PR MANAGEMENT GIUSEPPE MELILLO, FLORE MURARD-YOVANOVITCH, FRANCA SCHAAD, BORIS SENFF PRESS YVEN AUGUSTIN, ALESSANDRA MONTEMURRO, TOM DE CLERCQ CONSULTING ROLF BOSSART, THOMAS SEIBERT, LORENZO MARSILI, CLELIA BARTOLI
"The New Gospel" by Milo Rau is an interdisciplinary production that consists of a campaign, a series of public events and performances and a film.
The series of events and performances are part of the Matera 2019 project "Tòpoi. Theatre and New Myths". It is a coproduction of IIPM – Interna-tional Institute of Political Murder with Fondazione Matera Basilicata 2019, Teatro di Roma and NTGent in collaboration with Teatri Uniti di Basilicata, Fruitmarket and Langfilm in association with ProLoco Ginosa, Universität für angewandte Kunst Wien.
The campaign is led by IIPM – International Institute of Political Murder in collaboration with Associazione No Cap – Contro ogni forma di caporalato, Ghetto Out Casa Sankara, Spin Time Lab Roma, Osservatorio Migranti Basilicata, AgricoLa Leggera, Campo Libero, altragricoltura – Confederazione per la Sovranità Alimentare, UILA Taranto – Unione Italiana lavoratori agro alimentary in association with European Alternatives, European Center for Constitutional and Human Rights (ECCHR), Medico International, FUTURZWEI – Stiftung Zukunftsfähigkeit, Öko & Fair – Umweltzentrum Gauting, European Democracy Lab, Voix des Migrants, Community Working Group on Health, Institut für Theologie und Politik, Berlin Postkolonial.
The events and performances are a coproduction of IIPM – International Institute of Political Murder with Fondazione Matera Basilicata 2019, Teatro di Roma und NTGent in collaboration with Teatri Uniti di Basilicata, Fruitmarket and Langfilm in association with ProLoco Ginosa, Universität für angewandte Kunst Wien.
The film project is a production of Fruitmarket and Langfilm in coproduc-tion with SRF SSR, ZDF in collaboration with Arte, IIPM – International Institute of Political Murder, Fondazione Matera Basilicata 2019, Consorzio Teatri Uniti di Basilicata and Teatro di Roma.
The events and the film are funded by the German Federal Cultural Foun-dation, European Cultural Foundation, Film- und Medienstiftung NRW, Office of Culture (FOC), Zürcher Filmstiftung, DFFF – Deutscher Filmförderfonds, Kanton St.Gallen Kulturforderung / Swisslos, BKM – Die Beauftragte der Bundesregierung fur Kultur und Medien, GEA – Waldviertler, Stadt Lausanne and Kanton Waadt, Fondo Etico di BCC Basilicata, Volkart Stiftung and Suissimage Kulturfonds.